Over the last decade smartphones have transformed the way we work, the way we play, and the ways we communicate. Since the launch of the iPhone in 2007 we have seen an almost unbelievable rate of technological advancement that has disrupted industries and impacted all of our lives.
But, if we're being honest, sometimes it doesn't feel all that exciting anymore. Over the last couple years we have started to see things settle into a predictable pattern. Devices run a little faster, get a little thinner, and have a bigger screen but the way we use our phones hasn't really changed. Everything that you can do with your brand new iPhone Xs you could also do with the iPhone 8, and 7, and probably 6.
Thankfully, it appears that we are about to enter into a new era of mobile computing, the foldable era.
Rumors have been swirling for the last couple years that some of the biggest companies in tech are working on new foldable screen devices that could rethink how we interact with our phones, tablets, and computers. Today we'll take a look at what the rumors say Microsoft, Samsung, and Apple have in store for us as we move into this exciting new paradigm of mobile computing.
Microsoft
Long before Microsoft found success in the tablet market with their Surface devices there was another tablet, codenamed Project Courier, that predicted a much different future for mobile computing. Courier was an early attempt at creating a dual screen notebook computer that could be used in a more natural way. The device tried to make computer interactions more like using a Moleskine notebook and less like a laptop. A concept video from this project was leaked online in 2009 and I remember being blown away by the ideas at the time.
The Courier project was eventually killed at Microsoft as they decided to rethink their approach and go in a different direction, which lead to the current line of Surface tablets. However, over the last couple years rumors have started to swirl about a foldable screen device codenamed Andromeda that could bring back some of the exciting possibilities found in the Courier concept.
Project Andromeda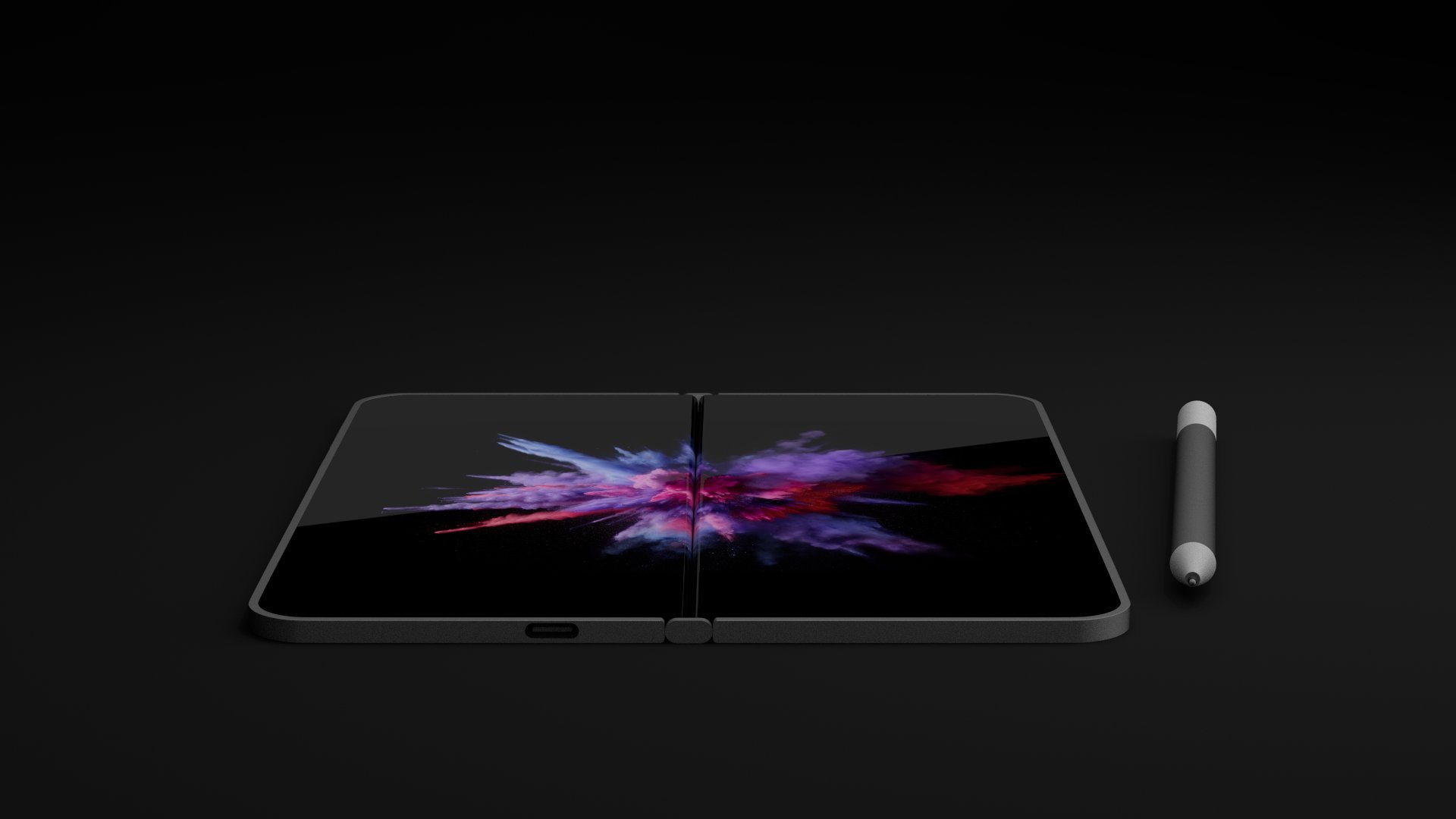 Like the Courier before it, Andromeda is expected to be a dual screen device that can lay flat on a table or close up like a notebook. With the inside portion of the device being almost completely covered by a foldable screen it could allow for a much larger work space than a standard phone but still retain the portability of a device like the Galaxy Note or iPhone Plus.
Andromeda is expected to work with the Surface pen for handwriting and inking functionality as well as multi-touch. In one patent application linked to Andromeda we can see that Microsoft is thinking about a mode that places a virtual keyboard and trackpad on one half of the screen and uses the other half as a monitor, basically turning the tablet into a virtual laptop.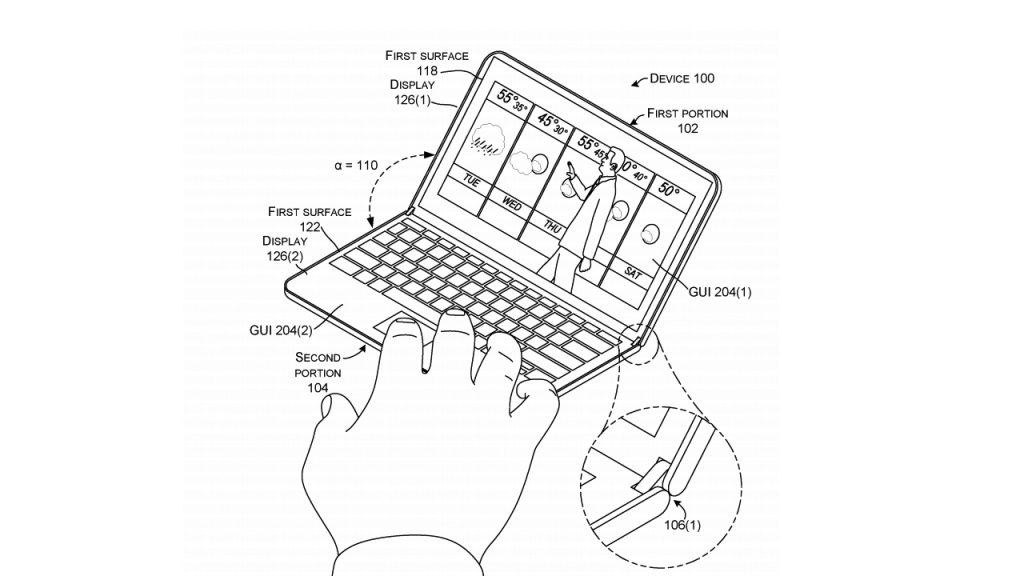 While Microsoft's patent applications give us an idea of what the hardware for Andromeda may look like the software picture is much less clear. The latest rumors suggest that Andromeda will use a version of Windows 10 that has been modified to enable these new device features while retaining compatibility with existing Windows applications. Unfortunately it appears that this development effort is proving difficult for Microsoft and is causing progress to move slower than initially hoped. Andromeda was expected to be announced in late 2018 but recently the plans to launch this year were scrapped so that the concept could be reworked and made more exciting before release.
Recent reports suggest that Andromeda still lives in the design pipeline at Microsoft and that we could possibly see it in the second half of 2019. In fact, after the recent Surface event in early October, Microsoft Surface chief Panos Panay said that the pocketable surface project 'is his baby', so I think we will definitely see it at some point in the future. Hopefully Microsoft will use this extra time to create a project that can incorporate some of that magic in the Courier demonstration from all those years ago.
Samsung - Galaxy X
Samsung's take on a foldable phone is apparently known inside the company as 'Project Winner' and is expected to be released as the Galaxy X. While this device has been rumored since Samsung first teased it in 2013 it appears that we may finally get our first real look at it in the very near future.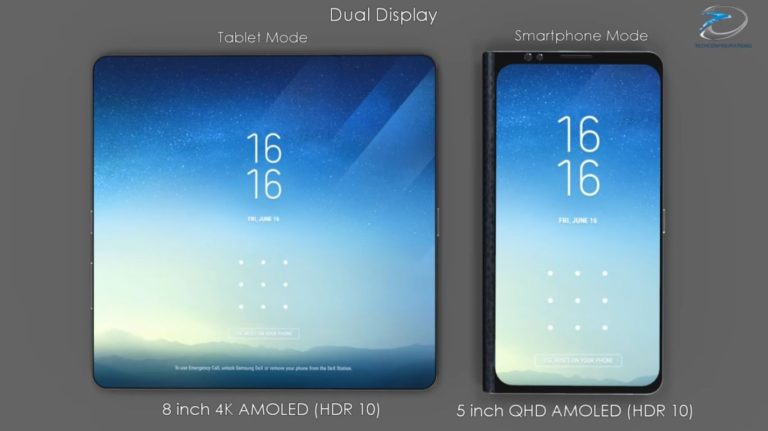 From the rumors that are available the Galaxy X is likely to be the most familiar of the three devices we are discussing today. Based on recent rumors it appears that the phone will basically just offer a larger screen area for tablet like usage when opened up. The Galaxy X will also likely allow for handwriting and drawing capabilities with a Galaxy Note S-Pen and could incorporate some of the curved screen interactions of the Galaxy Edge line of phones.
If the render above is any indication of the type of device Samsung is planning to unveil then there is reason to believe it could be the most expensive phone ever released. With a 'phone' screen on one side and a then another foldable OLED screen inside, this phone could easily carry a price of $1,500 or more.
Many industry watchers expected an announcement for the Galaxy X earlier in the year but recent reports show that Samsung has had difficulty making the design special enough to warrant an entirely new product line. Based on those problems the announcement of the Galaxy X was put on hold so that more work could be done to build out an exciting new interface that takes advantage of the foldable screen.
Thankfully, it sounds like we won't have to wait very long to find out if these extra efforts have paid off.
Based on the tweet above, and recent comments from Samsung Mobile CEO D.J. Koh, it appears that the Galaxy X will be announced at the Samsung Developer Conference on Nov 7th. If this is true, I think the fact that the announcement is happening at a developer conference is telling. Samsung likely feels they need to build developer support to create third-party apps for the new device before it goes on sale sometime next year.
Hopefully Samsung will announce the Galaxy X later this week and we can finally see what they have in store for us.
Apple
Of the three companies that we are looking at today it appears that Apple is the farthest from release of a foldable device. However, because of the the frameworks that Apple already has in place, I believe Apple could deliver the most exciting device with the most clear use case.
Rumors and patent applications from Apple show that they are exploring several different designs for a foldable phone. The patent image below shows three different device styles that could be possible. One that opens up like a book, another that folds in the opposite direction and would have a screen on the front and back of the device, and a third that folds in two places so that you could move between a traditional candybar style phone and a larger tablet layout.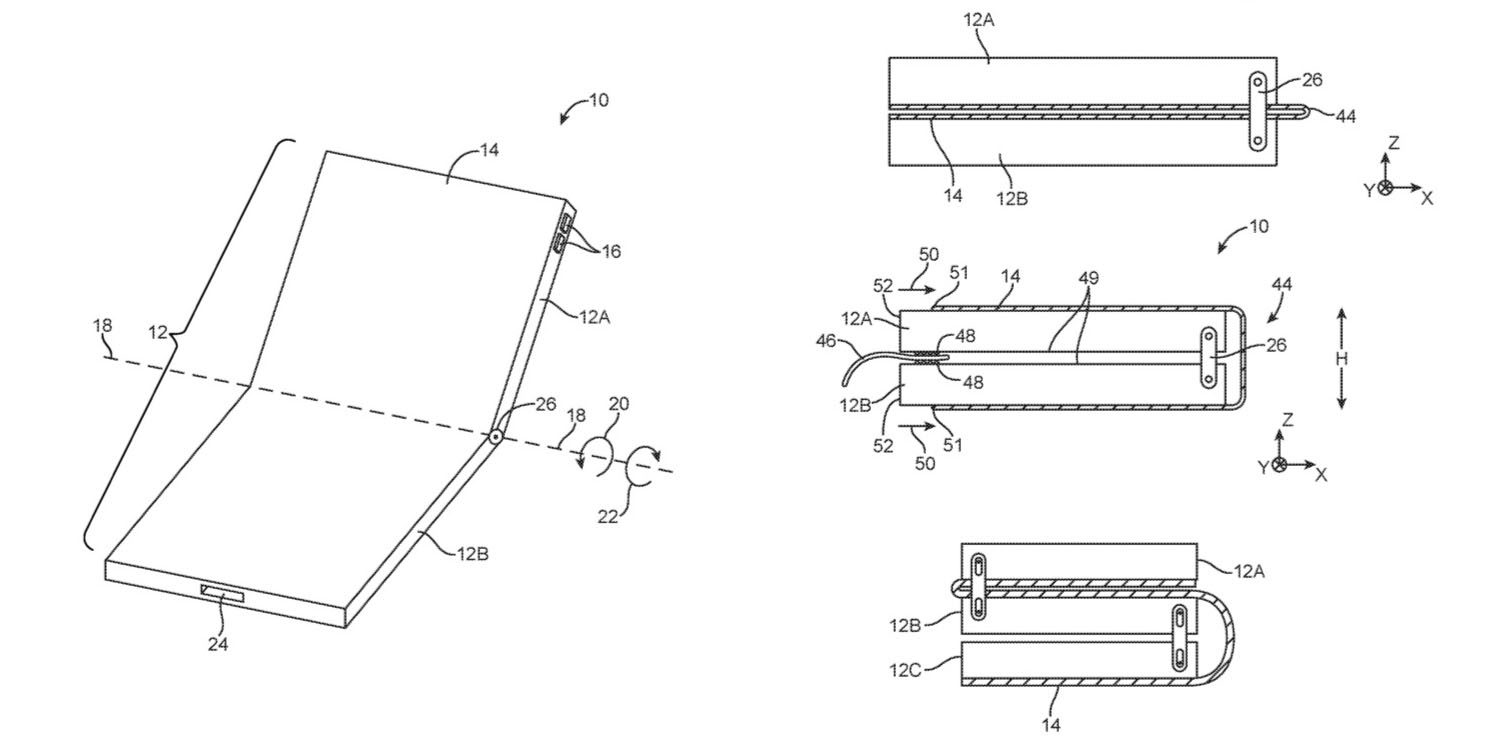 What each of these designs has in common is a single foldable screen that can bend around one or two hinges to provide two different modes of use. For simplicity sake let's call these 'phone' (when a smaller portion of the screen is usable) and 'tablet' (when the full screen is available for use).
The reason I believe that Apple has the best chance to capitalize with a device of this type is that Apple has already introduced the concept of a 'Universal App', an app that can be downloaded once and then used across many different Apple devices.
This gives Apple the ability to provide interesting 'dual-use' apps for a foldable screen device on the day of its release simply by allowing Universal apps to shift between their phone and tablet interfaces depending on the device layout. When the device is folded up you get the iPhone interface and feature set, if you then unfold the device the app shifts into the iPad interface and you have access to a larger set of features and a larger workspace.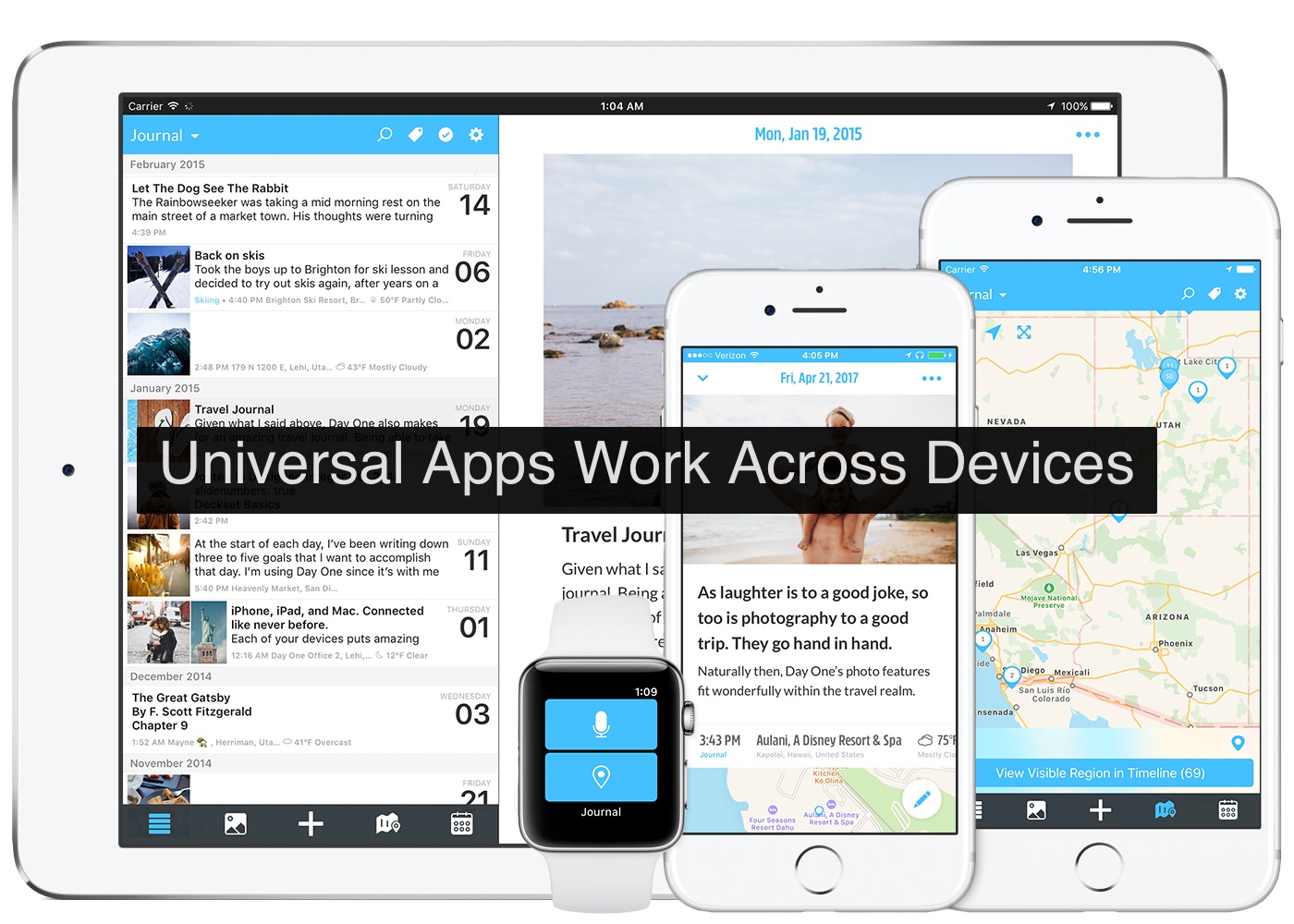 Why is this the 'next big thing'
The reason I think this could be such a great advance for mobile devices is that it brings together a device that excels at consumption of content with a device that is great for creating content. I believe that the phone is a great device for communication and consumption, but trying to create anything larger than a tweet is cumbersome on a phone sized device. It can clearly be done, but it's not a great fit.
Tablets, on the other hand, are great for creation. They are, in many ways, better even than a PC because the interactions can be much more natural than using a mouse and keyboard. Those of us from the 'old-school' sometimes find that hard to believe but younger generations are much more comfortable with a tablet than a desktop and computing as a whole is becoming more mobile every year.
A foldable device will put the power of creation into your hands wherever you are, without much compromise in the way of portability. A foldable phone like this takes us one step closer to having a single device that handles all of our computing needs. Something that we have only seen, so far, in science fiction.
When Does This Future Arrive?
The Foldable Future starts now! Assuming Samsung announces the first real foldable device on Nov 7th we'll finally get our first look at what a consumer device with a foldable screen could look like.
It is also possible that we will see Project Andromeda from Microsoft sometime in 2019. This device actually has the chance to be very different than the Galaxy X because it isn't trying to be a phone, just a computer. Project Andromeda is really Microsoft's attempt to take a Surface and make it more portable and personal; I'm excited to see what they come up with.
Current rumors point to Apple likely not launching any foldable devices until 2020, but if Samsung finds success with the Galaxy X it's hard to think Apple will wait almost two years without releasing an answer. Again I think Apple already has an advantage on the software front for a device like this so it really just comes down to when the hardware can be ready.
I hope you have enjoyed this look at the foldable devices we could be seeing in the near future. Personally, I hope that these rumors turn out to be true so we can see a new explosion in mobile innovation like we did after the launches of the iPhone and iPad. If you have any thoughts, questions, or comments about these new devices and what they could enable feel free to contact me at brandon@gcmobileapps.com.