Q1 2018 Sets Downloads Record
According to the latest statistics from App Annie global mobile app downloads grew by 10% year over year in the first quarter of 2018. This growth lead to a total of 27.5 Billion app downloads, the highest figure of any quarter in history. In addition to the download increase mobile app revenue also grew by 22% over the first quarter last year, for a total of $18.4 Billion.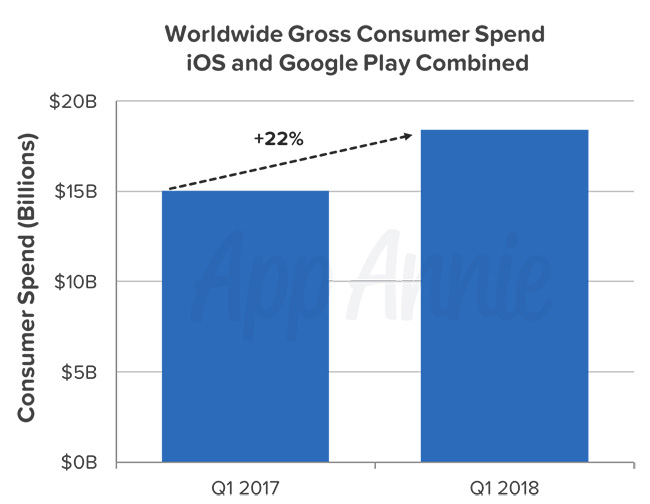 Mobile game were a large driver of this growth, as usual, but there was also large growth in mobile shopping apps over the last quarter. Retail business has started to go all in on mobile shopping experiences to help in their battle against e-commerce competitors and this has lead to a raft of new app launches and successful updates. Restaurants are also growing their mobile app business as they begin to embrace the benefits of having a mobile connection to their customers.
Improved Stores Driving Growth
One reason for the large growth in iOS downloads over the last quarter is the App Store redesign that Apple introduced with iOS 11 in September. Recent data from Sensor Tower shows that the redesign has improved discoverability on the App Store and increased the number of apps that are found by users browsing the store.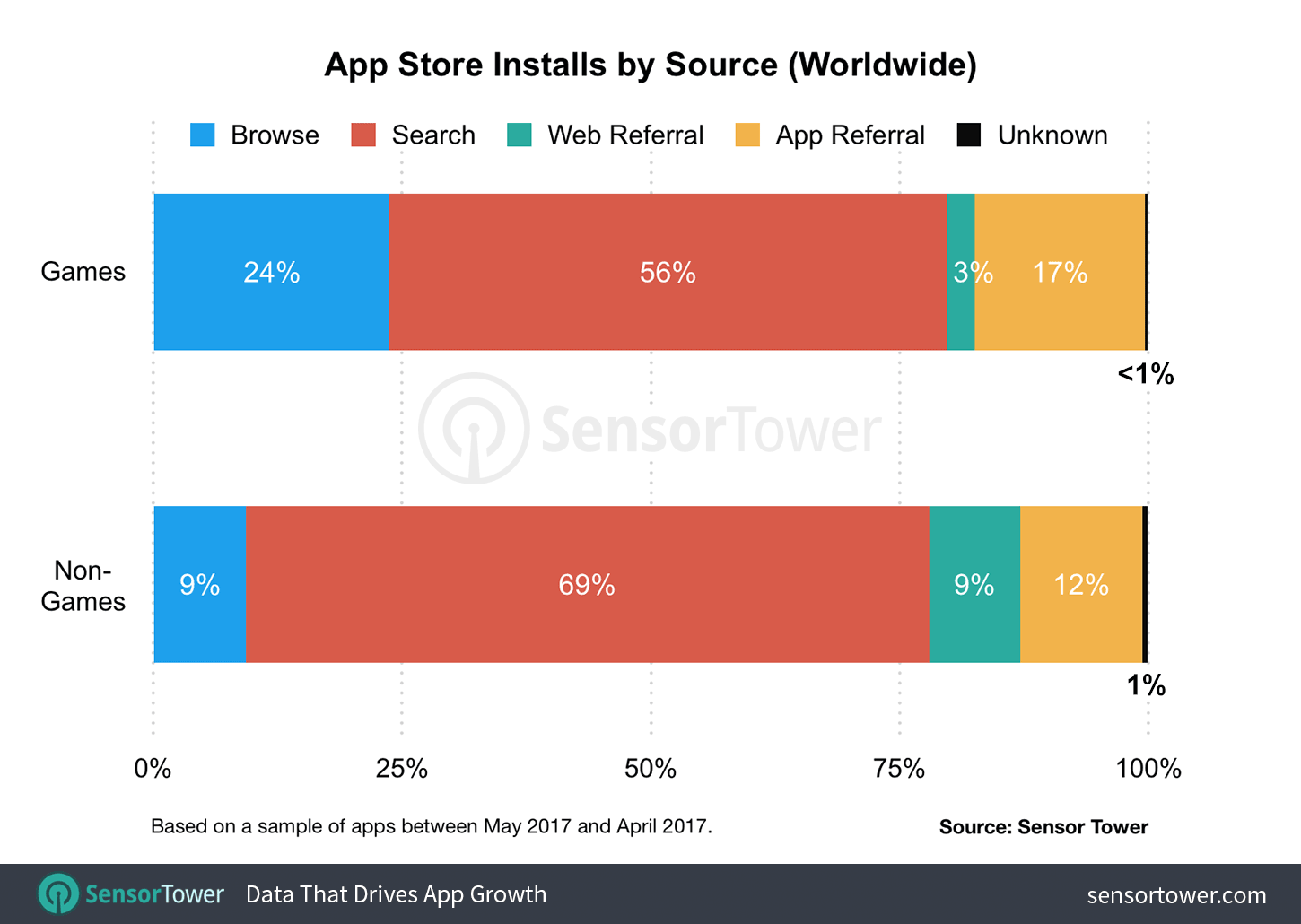 Another aspect of the store redesign that has made a big impact in app downloads are the many new featured selections and the daily updates to the Apps and Games tabs. While the top of store features can increase downloads by up to 800% even the smaller feature spots can drive significant download increases of 100% - 200% or more. While you can't base your marketing strategy on getting featured it is clear that the added visibility Apple has introduced with the App Store redesign is a benefit to app publishers large and small.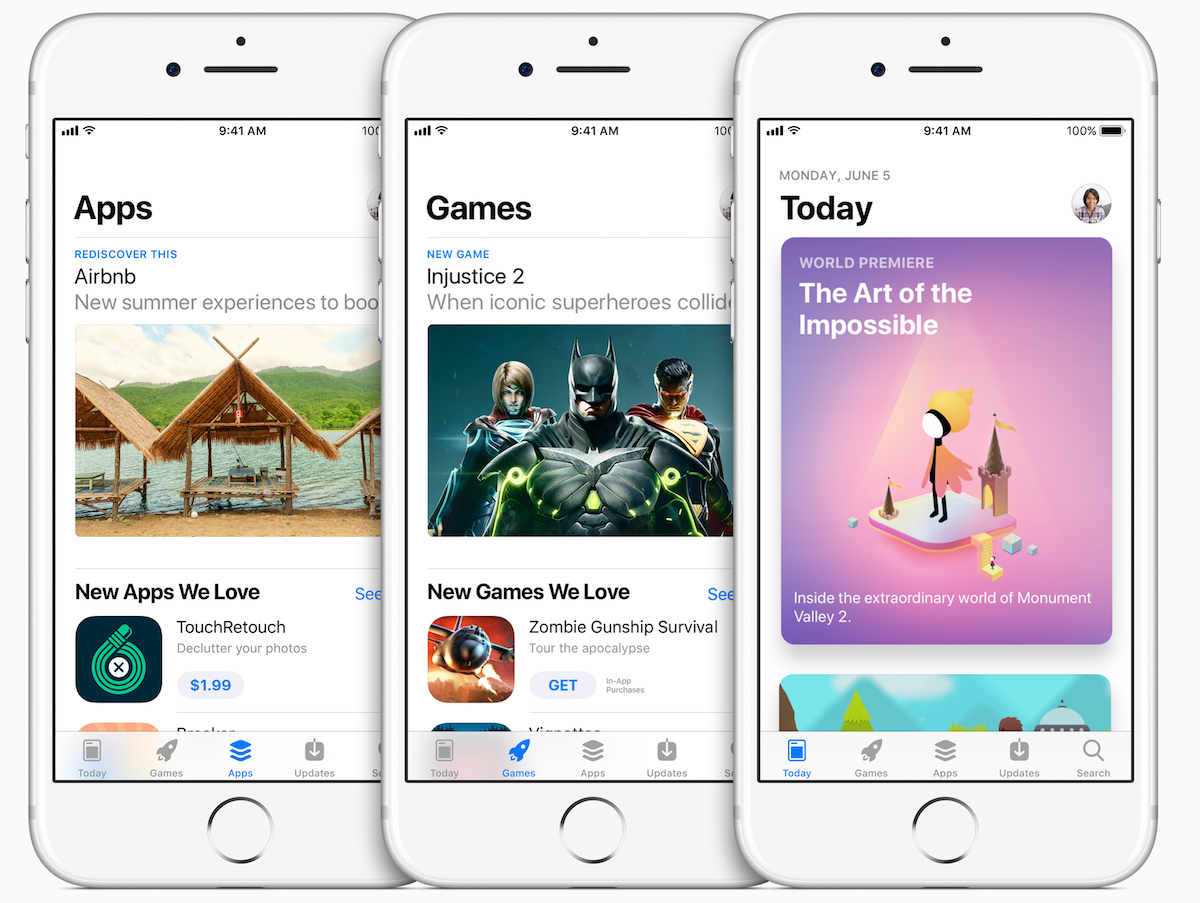 Apple shows us the money
With this large increase in downloads over the last quarter we would also expect an increase in app store revenue, and that is exactly what we're seeing. Apple recently revealed that iOS developers earned $26.5 Billion in 2017 which is a 30% increase in earnings over 2016. That growth has helped Apple reach the milestone of over $100 Billion paid out to developers since the introduction of the App Store, and there is no end in sight.
The continued growth of the mobile marketplace makes it the perfect time to expand your business with mobile apps. Every business will be impacted by mobile in the years to come and the sooner you can stake your claim the better positioned you will be to reap the rewards.