Most of the focus for app publishers today is on getting a user to install their app, but just as much attention needs to be paid to users after an install has occurred. With such high levels of competition in the app marketplace just driving downloads of your app can feel like a success, but if users quickly discard your app after install then all your efforts, and marketing dollars, end up being wasted.
Mobile analytics firm Appsflyer recently reported that nearly 30% of all apps will be deleted within 30 days of install. This uninstall percentage will likely have a huge impact on the lifetime value (LTV) of your customers and could drive the profitability of your app dramatically downward.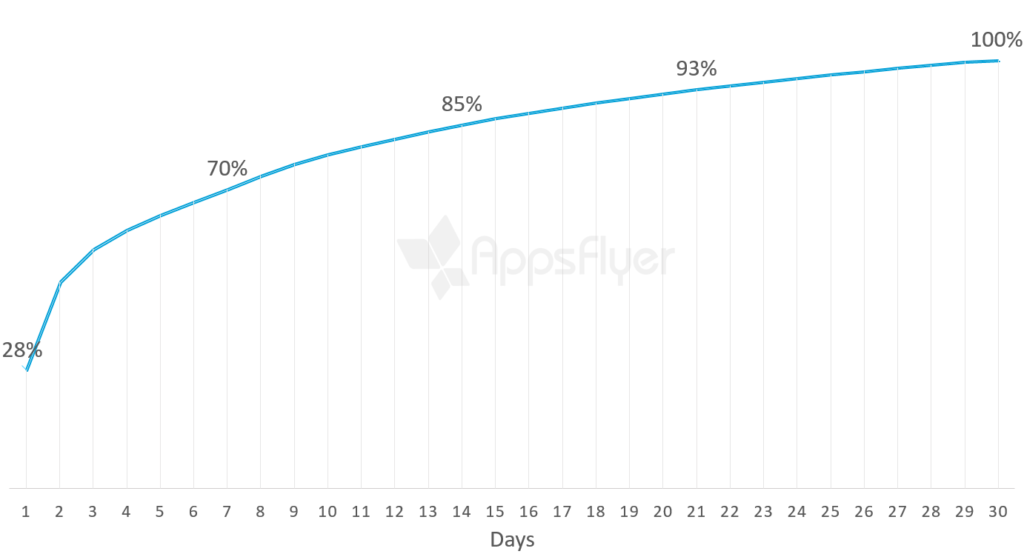 The graph above displays which day, in the first 30 days, these uninstalls tend to occur. As you can see 28% of users uninstall the app on the first day of use, and 70% will uninstall the app within the first week.
How to keep your app installed
So, how do you get your users to keep your app beyond that first day, week, and month? Here are some tips that will help you keep your users engaged and away from that delete button.
Bring Value - Of course the first, and most important tip, is to build a great app that really solves a problem for your users. There are so many apps available right now that bring almost no value to their users, don't be one of them. If you can create an app that really solves a problem for your users then you will be starting on the right foot.
Be Upfront - Make sure that your app title, description, and screenshots do a great job of explaining to users what your app will provide to them or enable them to do. Many users download apps thinking they will solve a problem but then find that the app doesn't deliver on the promises made in its description. This is one reason why many apps are opened once and then quickly deleted, the user didn't get what they were expecting.
Squash the Bugs - Technical problems are one of the top reasons that users delete an app. If your app doesn't function as expected, doesn't correctly fit the device's screen, or, worst of all, crashes; then it is very hard to retain users. No app will ever be completely bug free but do your best to squash all of those bugs before launch and then work quickly to fix any that are found after release.
Sweat the Small Stuff - First impressions always matter, but especially when it is a user's first impression of your app. This means that taking the extra time to refine your app UI is worth it. Taking the time to streamline your app for ease of use is worth it. The onboarding process, how you help your users get started on their first use, is extremely important. Make sure you budget time and resources to make those first experiences bulletproof.
Learn from Games - Games have some of the lowest uninstall rates of all app categories, so what can we learn from them? Games with the best retention rates agonize over their onboarding process and plan out ways to entice their users to come back to the app multiple times per day. Depending on the purpose of your app you may be able to implement timed reminders to check back in with the app that activate if the user hasn't opened the app for 24 hours. If your app has advanced features you may be able to roll them out over time so the user isn't overwhelmed by too many features all at once. Timed notifications that invite the user to come back each day and learn a new trick or tip can help educate your users and reinforce the habit of opening your app each day.
In-App Messages - By the time you release you app you will know every screen and button by heart but don't forget that your users will be coming in cold. In-app messages are a great way to highlight functionality that may not be obvious to a new user. Look through your app and find screens that could benefit from a little extra explanation and then provide a popup training message that appears just once to highlight important features. An example of this can be seen in the screenshot below from the Nike+ Running app.




Gently Nudge - Push Notifications can be a great way to communicate but, used incorrectly, they can just as easily annoy your users and drive them away. The key to a good push notification policy is to use them sparingly and to provide value to your user with each notification. If you're going to send a push notification to a user make sure that it is personalized or you are offering them a discount, special offer, or some other incentive to make them feel that keeping your app is beneficial to them.
Update Often- A continual update schedule for your app is a great way to keep your existing users engaged and to keep your app fresh for new users. It's better to release small updates more frequently than to stretch out the time between your updates to squeeze in extra features.
Got Data? - Once your app is out in the wild you'll need a way to keep track of how it is being used. Including an analytics package in your app will allow you to identify where your users spend the most time, what parts of your app users are steering away from, and where in your app users may be running into problems. There are several great tools to choose from including Google's Mobile Toolkit and Flurry's analytics library.
Give Users Options - One way to send your users running for the hills is to make the first thing they see when opening your app a huge list of requests for their personal information. Make sure that you don't ask for more access than you really need. A great way to handle this is to only ask for permission when a user tries to access a part of your app that needs it. This connects your request for information with their usage of the app and makes it clear to them what you're using it for.
Take these steps and you'll definitely put yourself ahead of the pack and have a lower uninstall percentage than most apps out there. If you are working on an app and would like to discuss these ideas in more detail click here to schedule a strategy session and we can talk through the options.